Archive for the Fiction Category
Posted in
Early Elizabethan Knock-Knock Jokes
,
Family and Friends
,
Fiction
,
Food
,
French Impressionistic Knock-Knock Jokes
,
Fritz Lang
,
German Reformation Knock-Knock Jokes (1520-1553)
,
Humor
,
Isnt nature wonderful?
,
Joseph Bleckman
,
Mad Men
,
Our animal friends
,
Parody
,
Photography
,
Politics
,
Post Modern Knock-Knock Jokes
,
Romance Language Knock-Knock Jokes
,
Sumerian Knock-Knock Jokes
,
The Wilhelm Scream
,
Victorian Era Knock-Knock Jokes
,
Why do people in other countries talk funny?
on November 14, 2010 by paulboylan
Most of you who visit here know that I am an attorney – and a happy one, content in my work and honored to be part of one of the Great Professions.
But before I shook the dust out of my brain and decided to make something of myself, I fancied myself a writer – or at least thought I would write professionally one day.
During that phase of my wasted youth I wrote a series of terrible and really inappropriate children's stories I called Grim Fairy Tales.  They were told by Brother Grim, an old man who owned and operated a convenience store. One night a bad storm forced brother Grim and a small group of children to spend the night in Brother Grim's store.  The lights and phone were out, so Brother Grim entertained them with stories told in the dark, while the wind and rain howled and rattled the windows.
What follows is one of those stories.  I post it every November as we North Americans get closer to our Thanksgiving feast – which invariably features a big roasted turkey.
It is that time of year again.  My friends, I give you…
The Somber Turkey
Once upon a time, outside of the Kingdom of Woodland, east of Winters, in the Land of California, there lived a happy turkey farmer named Hannigan.  He loved raising turkeys, killing them, and selling them – in part or in whole – to clients all over California – where turkey eating was a big thing, especially during Thanksgiving and Christmas.
On Hannigan's turkey farm lived a happy turkey named Norman.  Norman was the happiest and most contented turkey the world had ever known because he was the biggest turkey anyone had ever seen.  Farmer Hannigan often brought other humans to marvel at Norman's size and physical beauty.
"That's gonna be some big turkey," the human visitors would always say.
"Yep," Farmer Hannigan would always reply.
Farmer Hannigan was happy, which made Norman happy. Norman was proud of the fact that he was so big and fat with lots of white meat, whatever that was.
The other turkeys knew how Norman felt, because he was always bragging about himself.
"I'm gonna be some big turkey!" he would say.
The other turkeys got fed up with Norman's bragging.  One day Leonardo decided to do something about it.
Leonardo was not an especially big or happy turkey. Not being big didn't make Leonardo unhappy.  He could give a rat's ass about how big he was.  He didn't buy into that neo-fascist farmcentric value system.  Leonardo was a fiery-eyed revolutionary with a strong interest in pragmatic Marxism.
"You are one fine, big turkey," Leonardo said to Norman one day.
"Yes, I am," Norman preened.
"You know what they're going to do to you because you're so big?" Leonardo asked.
"Admire me," Norman said, meaning it.
"Sure they are.  They're going to admire how good you taste," Leonardo said.
"I beg your pardon?" Norman asked.
"They're going to eat you, buddy.  In a couple of months they're going to catch you, kill you, cut off your head, pull out all of your feathers and your internal organs, cook you and eat you, and they're going to pick you first because you're so big.  Lots of white meat."
"Oh, my god!" Norman said.  "They're going to eat me!"
"You mean you didn't know?"
"No!"
"Everyone else knows.  Why do you think that so many turkeys die while they're drinking water?"
"Because they forget to breath?"
Leonardo laughed. "You believe that?  It's a lie invented by the Man.  Have you ever forgotten to breath?"
"No."
"Of course not. You got to be really stupid to forget to breath."
"But we
are
pretty stupid."
"No we're not.  That's just a lie to keep us down, to ruin our self esteem so we will be easy to exploit and so we won't cause any trouble.  I'll tell you why some turkeys die drinking water. Depression.  They're depressed.  Why else do you think those other "stupid" things happen?  Why do you think some turkeys kill themselves by opening their throats in the rain and drowning?  Why do you think hens sit on their eggs so hard they break the eggs?"
"Oh my god, they're killing their babies," Norman said, in horror.
"Right.  They know what's in store and they can't take it. Would you want someone to eat your babies?"
"No," Norman said.  "What can I do?" he asked, whispering in abject terror.
"Maybe I can get you out of here," Leonardo said.  "On the outside there is an underground network of birds and humans who can take you to a place where you will be free."
"Interested?"
"Of course!"
"Okay  I'll see what I can do."
Time went by.  Leonardo often spoke with Norman, teaching the bigger bird the truth about the world, teaching him hatred for the seemingly unbreakable power structure that doomed him and his race to be imprisoned, enslaved, slaughtered and devoured by killer apes.
"But remember," Leonardo cautioned one night. "Not all humans are ravenous cannibals.  Some are good, and eat only plants and bugs.  These are the ones that help some of us get away."
"How?" Leonardo asked in the star lit darkness.
"Every now and then there is a condition called Dark of the Moon, when there is no moon out and the darkness is as total as it can be.  During this time, a human jumps the fence and opens a big box. As many of us run in as we can.  We call it the Box of Freedom."
"Just one box?"
"Yes, one box, but it is a big box, and it is better that some of us escape to keep the flames of hope burning."
"I hope we both make it, brother," Leonardo said.
"Me too, brother.  Me too."
Then came the Dark of the Moon.  The turkeys were all quiet, making sure that there was no reason for Farmer Hannigan to investigate.
Suddenly the man with the box appeared.  He placed a big box on the ground and opened the side.
"This is it, brother!" Leonardo said, running.  Norman followed.
Leonardo made it into the box.  Norman didn't get in before the man closed the box.
"Don't worry, brother!" Leonardo cried from inside the box. "I'll be waiting for you in paradise!"
But it didn't happen.  The friendly human with the big box didn't come back.  And Thanksgiving approached.  Leonardo was right – they came for Norman first.
Farmer Hannigan and his employees placed Norman in a big wooden crate built out of slats so that Norman could see and breathe.  Then Norman was carried to a truck, to an airport, into the belly of a jet, into another truck, and onto a large lawn next to a big white house.  Eventually, humans came to set up a lectern, chairs and cameras.  More humans came.  Some talked at the lectern in front of the crowd.
And then Norman's cage was opened and gentle hands removed him from the crate.
"My god," one human said.  "This had got to be the biggest turkey I've ever seen."
"That's why the President is getting it," another human said, not trying to make a joke.
Norman was brought to the front of the crowd.  One human in a black suit made a short speech to another man, also standing in front of the crowd.  Humans in the audience took pictures with still and video cameras.
And then Norman did it.  He thrust out his neck and tried to bite the man who wasn't giving the speech.  Norman knew that he just couldn't go gently into that good night.
The man giving the speech reached out, grabbed Norman's long neck and choked Norman.  Other humans helped stuff Norman back into the crate.
"That is one feisty bird," the President quipped, and the reporters laughed.
In those days it was customary for the President to display generosity, and pardon the White House Thanksgiving turkey.  So Norman was taken to a farm in Virginia, where he lived for the rest of his natural days.
Leonardo was not so lucky. He ended up as dinner for the man with the big box, who was nothing more than a thief who just couldn't get over how stupid those turkeys were and how they would be so quite and just waddle into the box, as if they wanted to be eaten.
Which was, from the thief's point of view, always possible.  After all, turkeys are so stupid.
Happy Thanksgiving, everyone!
Posted in
Art
,
Battlestar Galactica
,
Brave New World
,
Cinema
,
космическая девушка
,
Fiction
,
Getting it Right
,
Joseph Bleckman
,
Op Ed
,
Pop Culture
,
Review
,
Stargate Universe
,
Television
,
TV
,
Uncategorized
on May 8, 2010 by paulboylan
.
.
.
.
.
.
.
.
.
.
.
I just watched the latest episode of Stargate Universe, entitled "Sabotage." If you haven't seen it, you must. It was one of the finest pieces of science fiction I've ever seen.
My personal relationship with art is centered in recognizing balance.  In my view, all art embodies at least two kinds of balance: the first is the balance of the genre it is part of; the second is the balance unique to the particular work itself.
In general, the evolution of science fiction as an art form has been a struggle to achieve artistic balance.  The early science fiction of Jules Vern and H.G. Wells was beautifully balanced, partly because Vern and Wells were not science fiction writers. They were authors who used science fiction as a story-telling delivery mechanism.  It was the story that was important to these writers; science fiction provided the structure to tell those stories.
These early science fiction stories also benefited from the fact that so few people could read and write. Those who could were automatically better educated and cultured than those who could not and, consequently, Vern, Wells and those like them were part of a "high art" literary tradition.
Such status was short-lived. Industrial societies depended on mass education that included reading and writing, which became common even among the uneducated and uncultured.  And it was these great unwashed masses that began both writing and reading science fiction.  Through pulp magazines, Sci Fi moved from high culture to popular culture.
And what a load of crap gushed forth – garbage written by amateur hacks with no story sense and poor vocabularies, using science fiction as a means of adolescent male masturbatory  wish fulfillment that really couldn't get very far past rocketing off to a place they might encounter space chicks needing rescue from bug eyed monsters.
.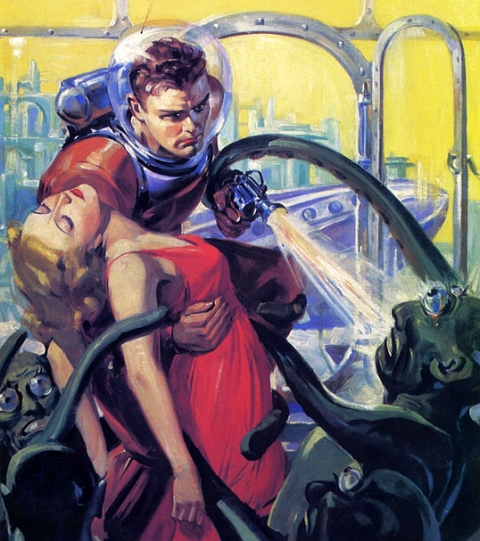 .
In other words, this pulp rubbish lacked artistic balance and focus.  If "ray guns are cool" is the reason a story is written, and if the writer lacks the talent, skill and educational foundation to reach beyond their fingertips, then the story is going to suck.
I believe that has changed.  Kim Stanley Robinson and John Birmingham are proof that SF has changed for the better.
.
.
.
Robinson and Birmingham are serious artists who, like Vern and Wells, use science fiction frameworks to tell stories that resonate beyond mere fantasy escapist wish fulfillment. Their work is artistically balanced in the same way any good novel worth reading and remembering achieves artistic balance.
Science Fiction cinema followed the same progression from early greatness  – e.g., Fritz Lang's early silent work -
.


to adlolescent escapism – e.g., the Flash Gordon serials -
.
.
to artistically balanced, nuanced good works that are cinema first and science fiction second – e.g., 2001, Alien and 12 Monkeys.
.
.
The same is true for science fiction television – from high art of the Twilight Zone –
.
to the idiocy of the Adventures of Buck Rodgers -
.
to the retooled, reimagined excellence of Battlestar Galactica.
.
This new video excellence was only possible because the popular audience is older and smarter, and cable television makes it possible to reach a smaller, smarter audience and still be profitable.  Battlestar Galactica was not just an artistic success – it was a commercial success.
And nothing succeeds like success. All commercial successes spawn imitations. Those behind Stargate Universe want to repeat, if not exceed, the BSG's commercial success and they concluded the way to do it is to imitate BSG's artistic success – i.e., focusing on story, plot and character and complex themes that resonate emotionally and intellectually.
Which created a different balance problem: too much focus on story, plot, character and complex themes is just as bad as too little.
Stargate Universe's first season suffered from this imbalance, resulting in slow, ponderous, boring television.  For me this imbalance was so annoying that I actually watched the show only because I was hoping to witness some of the more boring characters die and the slowest, most ponderous story lines end.
Which is why this last episode so delighted me. It is a demonstration of perfect balance between plot, character, theme, special effects and action. It isn't boring in the slightest and when it was over I wanted more and cannot wait to see the next episode.
I so hope this isn't an aberration. I so hope this is a sign the series as finally found its voice.
.